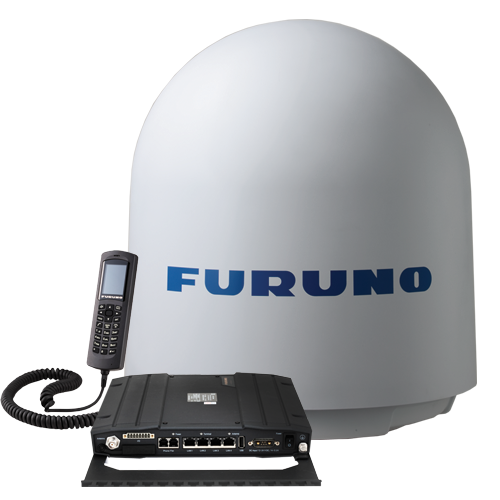 FELCOM501
Comunicazione satellitare INMARSAT
Articolo : IMD03441300
Sistema Inmarsat FleetBroadband - Standard IP fino a 432 Kbps
PREZZO : Contattare Furuno Italia
Descrizione
System Overview of FleetBroadband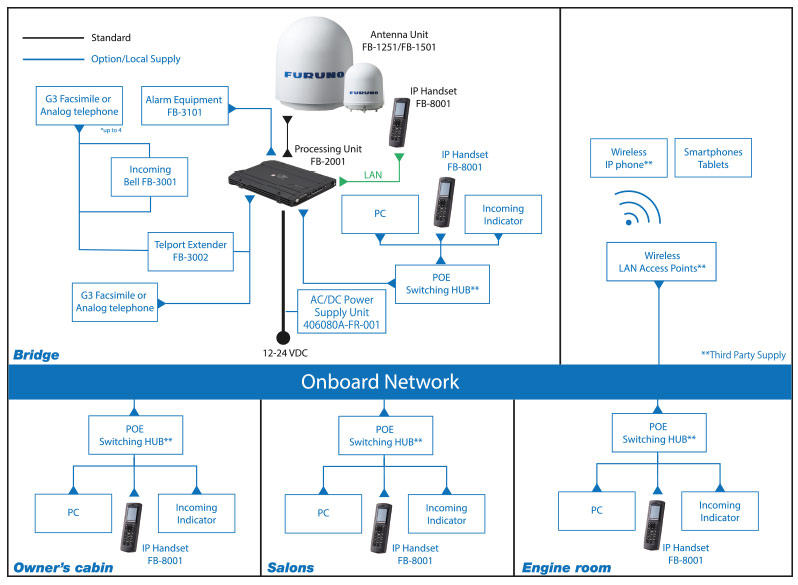 FleetBroadband coverage
I4 satellite F1 PAC-W 143.5E: Covering Oceania, Western Pacific and South and East Asia.
I4 satellite F2 IND-W 25E: Covering Western Asia, Africa and Eastern Atlantic.
I4 satellite F3 PAC-E 98W: Covering Western Atlantic, Eastern Pacific and Americas.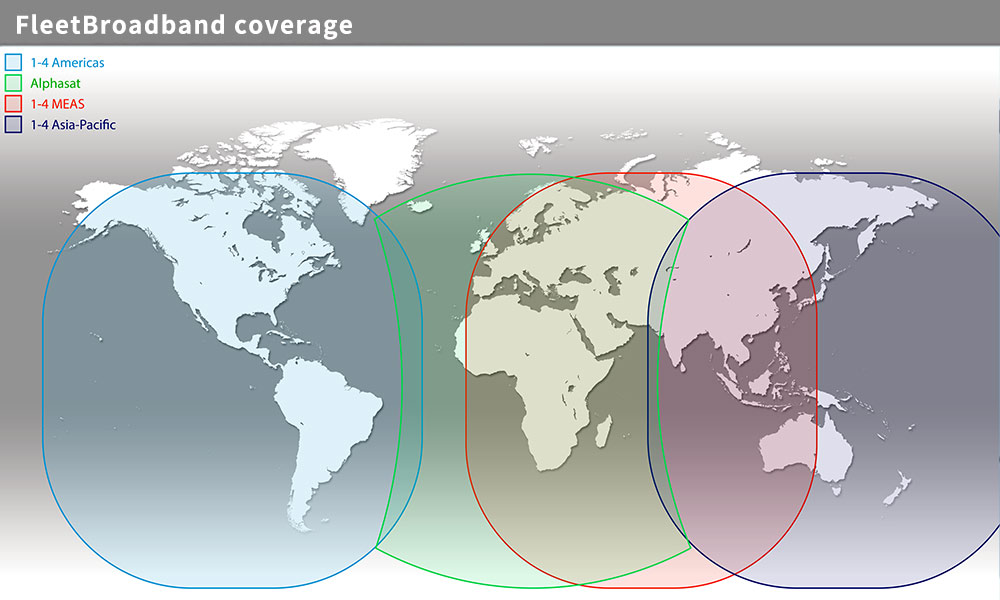 ---
Vantaggi del prodotto
FELCOM251 and FELCOM501 are FURUNO's latest Inmarsat FleetBroadband terminals, which delivers ship-to-shore/ ship-to-ship broadband communication of up to 432 kbps, anywhere at sea, by utilising the inmarsat Fleet Xpress system coverage. (coverage map below.)
In addition to data communication services (Standard IP of up to 432 kbps). FleetBroadBand allows the users to make use of ISDN data service* as well as FAX communication.
FELCOM251 and FELCOM501 will bring cost-effective broadband communication onboard the vessels for a variety of needs, for both operational and social purposes, including calling their friends and family back home while at sea.
* FELCOM501 only
---
Caratteristiche
Inmarsat fleet broadband data coverage anywhere at sea
Support the Inmarsat Fleet Xpress system

Standard IP(Up to 432 kbps for FELCOM501)
Streaming IP(Up to 256 kbps for FELCOM501)
Satellite voice
Enhanced voice services
Crew calling
GSM calls
SMS
Safety
Fax

Noise suppression function to improve the listening comfort in noisy environment
Compact Communication Unit FB-2001 for easy installation
High level of security settings (IP Filter, Firewall)
Remote Maintenance Available
Ample connection interface for retrofitting with existing systems and components
Conforms to the following standards: Inmarsat Fleetbroadband SDM, IEC 60945 (Ed.4), IEC 60529 (Ed.2)
---
Contenuto
1 X communication unit FB-2001
1 X IP Handset FB-2001
1 X Antenna unit FB-1501

1 x Unità antenna FB-1250
1 x Unità BB di comunicazione FB-2000
1 x Cornetta con base
1 x Materiale Standard di installazione

ANTENNA CABLE NOT INCLUDED
Caratteristiche tecniche
Alimentazione : 12/24 V
Altezza : 258 mm
Connessione Tel/fax : 4
Diametro : 653 mm
Funzione : Data/Voix/Sms
GPS integrato : YES
Marca : FURUNO
NMEA0183 : 1
Peso : 21 Kg
Tipo : FLEET BROAD BAND
Velocità di trasferimento di dato (maxi) : 432 kbps

---
Parti e accessori
| | | |
| --- | --- | --- |
| 00003510800 | GEMINI9333 PHONE FIXING BASE SET TILTING TYPE | Contattare Furuno Italia |
| 00003783000 | OP16-79 MODULAR JACK SET | Contattare Furuno Italia |
| 00153744000 | OP16-78-2 ATTACHMENT FELCOM501 | Contattare Furuno Italia |
| 00004327900 | OP16-11 MODULARJACKBOX(FLUSH) FELCOM80/81 | Contattare Furuno Italia |
| 00154161000 | 406080A-001-FUR WALL MOUNT TRAY | Contattare Furuno Italia |
| 00004327800 | OP16-10 MODULAR JACK BOX(EXPOSED) FELCOM80/81 | Contattare Furuno Italia |
| 00116790010 | LAN CABLE ASSEMBLY MOD-Z072-100+ 19S1181 | Contattare Furuno Italia |
| 00116789010 | MOD-Z072-050+ CAVO LAN 5M CONNETTORI RJ45/RJ45 PER HUB | 89,06 € IVA inclusa |
| 00116788010 | LAN CABLE ASSEMBLY MOD-Z072-020+ 19S1181 | Contattare Furuno Italia |
| 00004327200 | OP16-8 BOX JACK MODULARI PER FELCOM-251/501 | 25,62 € IVA inclusa |
| 00003420700 | GEMINI9333 PHONE FIXING BASE SET | Contattare Furuno Italia |
| 00003587600 | 406080A-FUR-001 AC/DC POWER SUPPLY 406080A-27001 | Contattare Furuno Italia |
| 00003587500 | FB-3101 ALARM PANEL 403771A-FUR | Contattare Furuno Italia |
| 00154162000 | 403742A-920-FUR MAST MOUNT KIT | Contattare Furuno Italia |
| 00149332000 | 16-023-5501 SPLASH PROOF CAP | Contattare Furuno Italia |
| 00124053000 | FR-FTPC-CY CAVO LAN 30M ARMATO SENZA CONNETTORI RJ45 19S1029-0 | Contattare Furuno Italia |
| 00003782000 | PR-241 ALIMENTATORE 220VAC-24V CON INGRESSO 24V BACK-UP AC/DC POWER SUPPLY UNIT | Contattare Furuno Italia |
| 00125844000 | DR2200 DRUM UNIT | Contattare Furuno Italia |
| 00124051000 | FR-FTPC-CY CAVO LAN 10M ARMATO SENZA CONNETTORI RJ45 19S1029-0 | Contattare Furuno Italia |
| 00124052000 | FR-FTPC-CY CAVO LAN 20M ARMATO SENZA CONNETTORI RJ45 19S1029-0 | Contattare Furuno Italia |
| 00002487200 | FAX-2840 ENGLISH*CE FACSIMILE MACHINE COMPLETE SET | Contattare Furuno Italia |
| 00003587800 | FB-3003 USB-RS232C CONVERTER 403738B-27982 | Contattare Furuno Italia |
| 00003481800 | FB-3001 INCOMING BELL | Contattare Furuno Italia |
| 00124055000 | LAN CABLE (4 PAIR) FR-FTPC-CY *100M* 19S1029-0 | Contattare Furuno Italia |
| 00106731000 | CP16-04131 INSTALLATION MATERIALS | Contattare Furuno Italia |
| 00854246000 | CP03-28901 CONNECTEUR | Contattare Furuno Italia |
| 00124054000 | FR-FTPC-CY CAVO LAN 50M ARMATO SENZA CONNETTORI RJ45 19S1029-0 | Contattare Furuno Italia |
| 00003510900 | GEMINI 9333B4 TELEPHONE SET TILTING TYPE | Contattare Furuno Italia |
| 00003332500 | GEMINI 9333B4 TELEPHONE SET | Contattare Furuno Italia |
| 00004322800 | OP16-13 SET JACK MODULARI PER FELCOM-251/501 | 58,56 € IVA inclusa |
| 00125846000 | TN2210 TONER CARTRIDGE | Contattare Furuno Italia |
| 00016714010 | JOINT BOX TL-CAT-012 - | Contattare Furuno Italia |
| IT-S2-6110 | DOME VUOTO I6/I6P/I6W INTELLIAN | 2 427,80 € IVA inclusa |
| IT-S2-9112_A | DOME VUOTO I9P/I9W INTELLIAN | 6 087,80 € IVA inclusa |
| | | |
| --- | --- | --- |
| 00159593000 | 8D-FB-CV 40M ANTENNA CABLE ASSEMBLY 20S104691 | Contattare Furuno Italia |
| 00116317010 | 8D-FB-CV CAVO 30M ARMATO PER GPS/FELCOM/AIS 20S104690 - Sostituito da 00159594000 | Contattare Furuno Italia |
| 00116322010 | 8D-FB-CV 40M ANTENNA CABLE ASSEMBLY 20S104690 | Contattare Furuno Italia |
| 00116319010 | 8D-FB-CV CAVO 50M ARMATO PER GPS/FELCOM/AIS 20S104690 - Sostituito da 00159595000 | Contattare Furuno Italia |
| 00159594000 | 8D-FB-CV 30M ANTENNA CABLE ASSEMBLY 20S104691 | Contattare Furuno Italia |
| 00159595000 | 8D-FB-CV 50M ANTENNA CABLE ASSEMBLY 20S104691 | 1 134,60 € IVA inclusa |
| RO-00017 | CABLE ANTENNE 15 M D:5.4MM AVEC CONNECTEUR | Contattare Furuno Italia |
| RO-00018 | CABLE ANTENNE 25 M D:10.8MM AVEC CONNECTEUR | Contattare Furuno Italia |
| 00115811010 | 12D-SFA-LITE-CV 100M CABLE EQUIPE 16S0211 | Contattare Furuno Italia |
| | | |
| --- | --- | --- |
| 00003623800 | FB-8001-E IP HANDSET FBB HANDSET W/CRADLE | Contattare Furuno Italia |
| 00003642800 | FB-2001-501 W/O INST COMMUNICATION UNIT W/O INST 403738B-FUR-500 | Contattare Furuno Italia |
| 00003587000 | FB-1501 W/O INST-MAT ANTENNA UNIT W/O INST-MAT 403052C-FUR-001 | Contattare Furuno Italia |
| 00003624100 | CP16-06600 INSTALLATION MATERIALS FELCOM501 | Contattare Furuno Italia |
| | | |
| --- | --- | --- |
| 00160097000 | S-37-207267-001 CABLE ASSEMBLY RJ11 6P4C FB-3002 SP | Contattare Furuno Italia |
| 00160103000 | S-48-119863-A WARNING LABEL FB-1501 SP | Contattare Furuno Italia |
| 00160094000 | S-41-152759-A SIM CARD COVER FB-2001/-F19 SP | Contattare Furuno Italia |
| 00160095000 | S-82-152760-C ACCESSORIES KIT FB-2001/-F19 SP | Contattare Furuno Italia |
| 00160092000 | S-37-125066 POWER SWITCH ASSY FB-2001/-F19 SP | Contattare Furuno Italia |
| 00160098000 | S-87-146129-B WIRE LID COVER PSU SP | Contattare Furuno Italia |
| 00160102000 | S-41-205361-840 AZIMUTH BELT FB-1501 SP | Contattare Furuno Italia |
| 00160100000 | S-41-129829 RADOME GASKET FB-1501 SP | Contattare Furuno Italia |
| 00160091000 | S-31-204325-108 CONN. CABLE FB-2001/-F19 SP | Contattare Furuno Italia |
| 00160099000 | S-36-202061-005 HPA FAN FB-1501 SP | Contattare Furuno Italia |
| 00160113000 | S-67-144626 MOTOR KIT FB-1501 SP | Contattare Furuno Italia |
| 00160116000 | S-82-130946 RADOME TOP LESS FURUNO MARK FB-1501 SP | Contattare Furuno Italia |
| 00160115000 | S-62-166039 RADOME TOP W/FURUNO MARK FB-1501 SP | Contattare Furuno Italia |
| 00160108000 | S-62-134668 ATM PRINTED CIRCUIT BOARD FB-1501 SP | Contattare Furuno Italia |
| 00160106000 | S-62-134185 ATR PRINTED CIRCUIT BOARD FB-1501 SP | Contattare Furuno Italia |
| 00160107000 | S-62-134200 HPA PRINTED CIRCUIT BOARD FB-1501 SP | Contattare Furuno Italia |
| 00160093000 | S-37-125999-A POWER CABLE FB-2001/-F19 SP | Contattare Furuno Italia |
| 00160079000 | S-60-143908 GENERIC GNSS MODULE FB-1251/1501 SP | Contattare Furuno Italia |
| 00160096000 | S-60-151922 PSU PRINTED CIRCUIT BOARD FB-2001/-F19 SP | Contattare Furuno Italia |
| 00160110000 | S-67-130612 SCREW KIT FB-1501 SP | Contattare Furuno Italia |
| 00160104000 | S-62-129321 PLATFORM FB-1501 SP | Contattare Furuno Italia |
| 00160111000 | S-67-130613 CABLE/SCREW KIT FB-1501 SP | Contattare Furuno Italia |
| 00160112000 | S-67-132725 RADOME BOTTOM FB-1501 SP | Contattare Furuno Italia |
| 00160117000 | S-34-201823-035 THERMAL PASTA FB-1251/1501 SP | Contattare Furuno Italia |
| 00160114000 | S-67-163122 VENTILATION HOSE KIT FB-1501 SP | Contattare Furuno Italia |
| 00160161000 | FB-8001 CRADLE ASSEMBLY FB-8001 | Contattare Furuno Italia |
| 00160163000 | FB-8001-E HANDSET FB-8001 | Contattare Furuno Italia |
| 00160105000 | S-62-131549 BEARING BLOCK FB-1501 SP | Contattare Furuno Italia |
| 00160109000 | S-62-139895 AZI MOTOR KIT FB-1501 SP | Contattare Furuno Italia |
| 00160101000 | S-41-205360-318 ELEVATION/CROSS BELT FB-1501 SP | Contattare Furuno Italia |
---
Download
---